School Visits / Education
We are primarily focused on educating adults and children on the behaviour, nature and needs of birds of prey in Falconry and in the wild.
A typical 1 hour school group presentation would cover:-
The History of Falconry, (in the UK over 1200 years)
The Nature of the birds we use (and how they can identify the Birds of Prey they may see around where they live.)
The training of Falconry birds (with the huge commitment of knowledge, time and care required)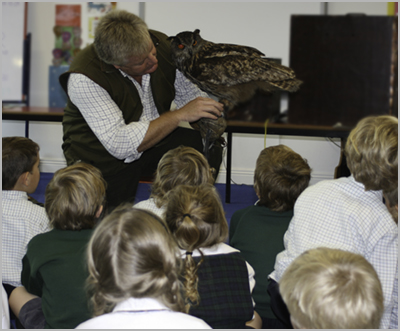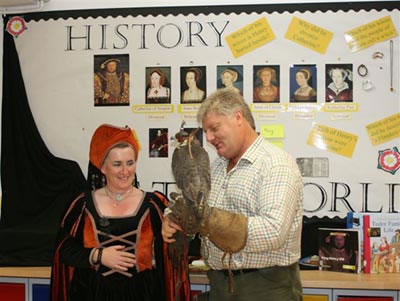 What really captures and holds the children's attention are the birds themselves. Hawks, Falcons and Owls. We bring along a variety of birds that best suit the content of the presentation.
It is very easy to fit the presentation to your needs.

Falconry was one of the most popular pastimes in England for 600 years (from the 11th to the late 17th Centuries) and so there is a wealth of detailed information linking Falconry to the main characters that shaped our history. The environment, People, Art, Culture, Literature and language, Love and War can all be brought alive through Falconry.
For example the Tudor period was a Golden Age for Falconry. Falconry birds, their nature and training were extensively referenced in the private and public writing of the day. Henry V111 is rarely painted without a Falcon on his fist and Shakespeare references detailed Falconry terms in many of his plays.
It is always enjoyable for us to structure a presentation which is interesting for your children and fits into your current program.

Subjects covered are Art, History, Photography, Literature, Creative Writing, Natural History and Design, all tailored to fit school curriculums.

Give us a call today to discuss.