We are passionate about Falconry and the Countryside!
Amews Falconry is a fully accredited centre for falconry training, located at Beaulieu in Hampshire, in the New Forest in central southern England. Under the tutelage of Paul Manning, an experienced falconer with more than 30 years experience.
Amews Falconry offers a range of Falconry based activities including;-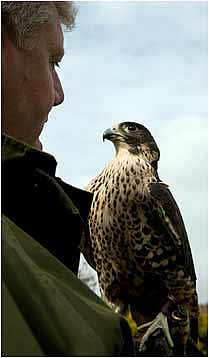 Intoduction to Falconry. This half day falconry experience is one of our most popular sessions and is often purchased as a gift for friends and loved ones. Participants will gain a basic understanding of Birds of Prey and their training and care with hands on experience of holding and flying a bird. Maximimum group size, just six persons. more
Corporate and Team Building We offer a unique and life enhancing experience to "bond the team" or as a reward for your clients or customers? We offer a range of Corporate and Team Building events that are both challenging and satisfying. Paul makes a good after lunch or dinner speaker too! His knowledge of the origins, the sport and history of falconry is extensive and his easygoing style makes for an interesting talk.

Hunting Days are special, experience the thrill of "the chase" in the beautiful Hampshire countryside.
Photography Days are intended for small groups of photographers and photo clubs. Participants will have the opportunity to photograph the birds in flight, working and "posed" in their natural habitat.

School and Educational Visits. Children of all ages are thrilled when close to our magnificent birds. Paul's informative talk is always appreciated too.
Presentations and Lectures. Paul Manning is an accomplished puplic speaker on falconry in general, his lecture "1000 Years of Falconry in South Hampshire and the New Forest" has been well received wherever presented. Call today for more information and date availablility.
For more information of all these activities just click on the appropriate button alongside.